A 'gaggle' of Central members made the pilgrimage to the Mecca of bowls to support the three Essex competitors, and our own Mitch in particular who had been drawn against Mel Biggs of Wiltshire
Mitch got off to a good start, keeping pace with his opponent up until 4 all. A combination of good bowling, assisted by a little luck at times, meant that he stretched out to a 7-4, then a 11-5 and then a 13-5 lead. Biggs rallied and pulled back to 14-8 before Mitch regained the upper hand to reach 16-8 up.
Biggs now started to out-score Mitch and dragged himself back into the game at 16-11, 17-14 and 17-16 through a combination of longer jacks and a growing domination of the backhand in one direction.
By now the game had been going on for well over 90 minutes and most of the other rinks on green C had finished as well as many of the matches on the other greens. As a result there was now a significant crowd watching what was becoming a classic.
A few more ends and the score was 18 all. Biggs had the upper hand in the next end and was holding with just Mitch's last wood to come. To the sound of cheers from all the Central supporters he trailed the jack to make two. He's now 20-18 up.
Mitch then got a toucher with the first wood of the next end coming to rest just siz inches in front of the jack. Next came the wood that may have decided the game. Biggs drew shot and despite three attempts to remove it Mitch was unable to score on that end. Soon it was 20 all and on the final end Biggs was able to use the aforementioned backhand to pile on the pressure, Mitch unable to prevent him getting the single he needed to win.
The match had taken over two hours. Mitch had lost from a winning position, primarily because his opponent upped his game and pulled out a killer wood at the right time. But Mitch had done the same earlier in the game in similar situations. Honours even.
Biggs went on to win two more rounds only to lose in the semi-finals.
The other two Essex representatives Malcom Smith and Eric Ovel also lost in the first round, Ovel loosing to the eventual winner.
(below) Some of the 20 or so Central members look on as Mitch bowls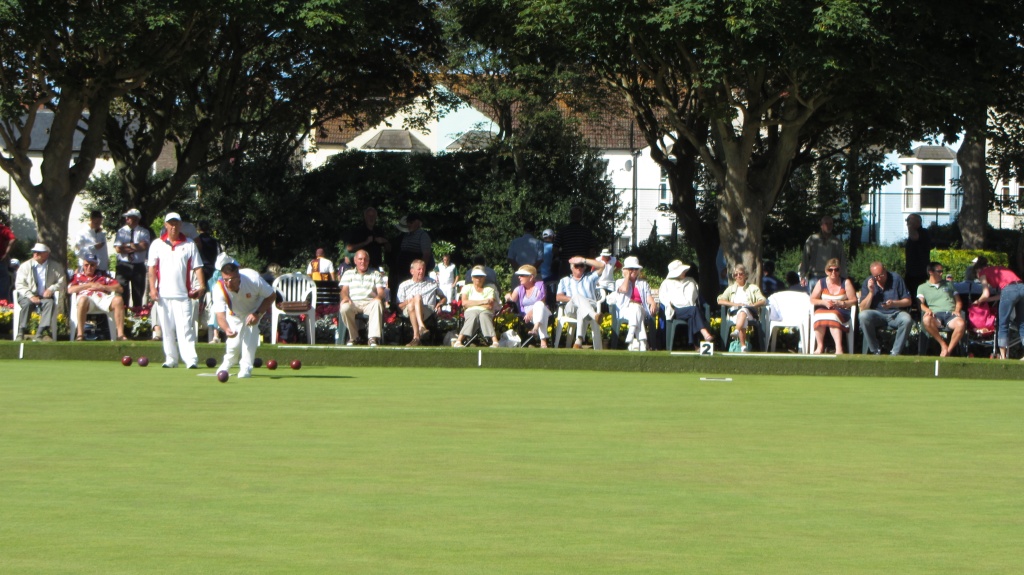 news